Hamutal Bar-Yosef is a well known Israeli born writer, poet, translator, and scholar, the recipient of the AKUM Prize for publication (1987), the Tel-Aviv Prize (1987), the Jerusalem Prize for Poetry (1990), the WIZO Prize for the Creative Woman (1999), the President of Israel Prize (2002), the Brenner Prize (2005), the Amichai Prize (2010), the Ramat-Gan prize (2012) The Rabinovich Award for translation (2012, 2013), The ASI Prize for Short Stories (2012) The AKUM Prize for Life Project (2013).  Her poems have been translated into English, French, German, Russian, Ukraine, Hungarian, Italian, Spanish, Arabic, Swedish, Danish, Norwegian, Rumanian and Yiddish.
She published 16 poetry collections, 7  books of literary research, a book of essays, a collection of short stories, a children's book and two collections of poetry which she translated from Russian.  She also translated from Russian the compete works of Isaac Babel (3 vols, 2011) and a book of  Malka Heifetz-Tusman's poems  from Yiddish (2014).
A book of selected poems in Russian translation was published in St. Petersburg in 2004.  Selected poems in English translation (Night, Morning, The Sheep Meadow Press, NY 2008`The Ladder, The Sheep Meadow Press)  have won great success. Books of selected poems were also translated into Hungarian (Budapest 2009),  Arabic (Cairo 2010), French (a tri-lingual Hebrew-French-Arabic, Paris 2013) and Spanish (Madrid-Mexico 2014).
For full CV press here 
for full cv in Hebrew (2014) , including publications in English, press here
Night, Morning  (Poems) : A Bilingual Edition
Translated by Rachel Tzvia Back. Introduction by David Shapiro, The sheep Meadow Press, New York 2007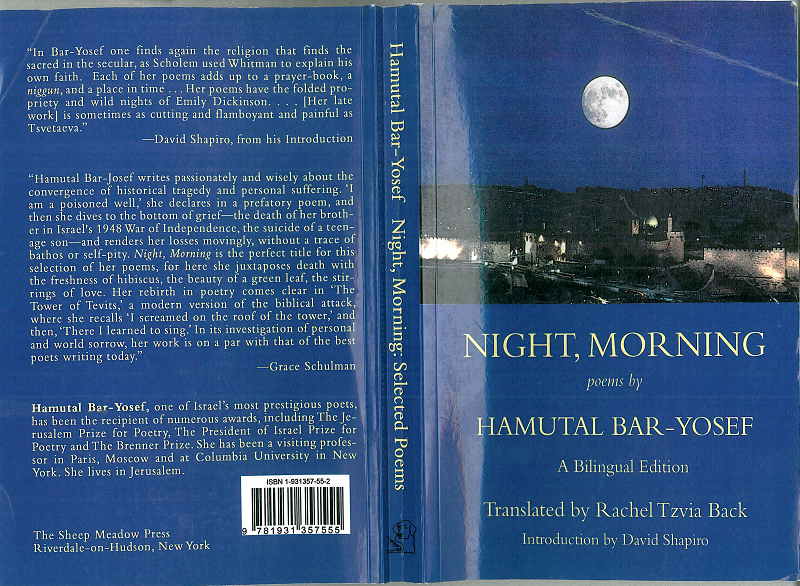 For the full text of the book press here
Reviews:
Margot Lurie, "Mourning Glory: The vibrant, anguished poetry of Hamutal Bar-Yosef", Nextbook: A New Read of Jewish Culture, 6.10.08.
Sandra Brawarsky, "Poetry as Purification", The Jewish Week, 10.10.2008, pp. 42-43.
Sandy Brawarsky, "Unexpected Gift books", Jewish Woman (Winter 2008), p. 35.
Michael Cook, "Night, Morning", Jewish book World: Poetry Reviews, Spring 2009.
דורית זילברמן, "משוררת עברית בניו יורק", ידיעות אמריקה 12.18.2008, עמ' 15-14.
The Ladder , sheep Meadow Press 2014 (in print)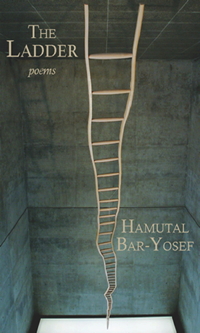 lick here for additional detailscc
announcement Jerusalem Bienale Oct 29 2015
Mysticism in xx Century Hebrew Poetry ( 2010 )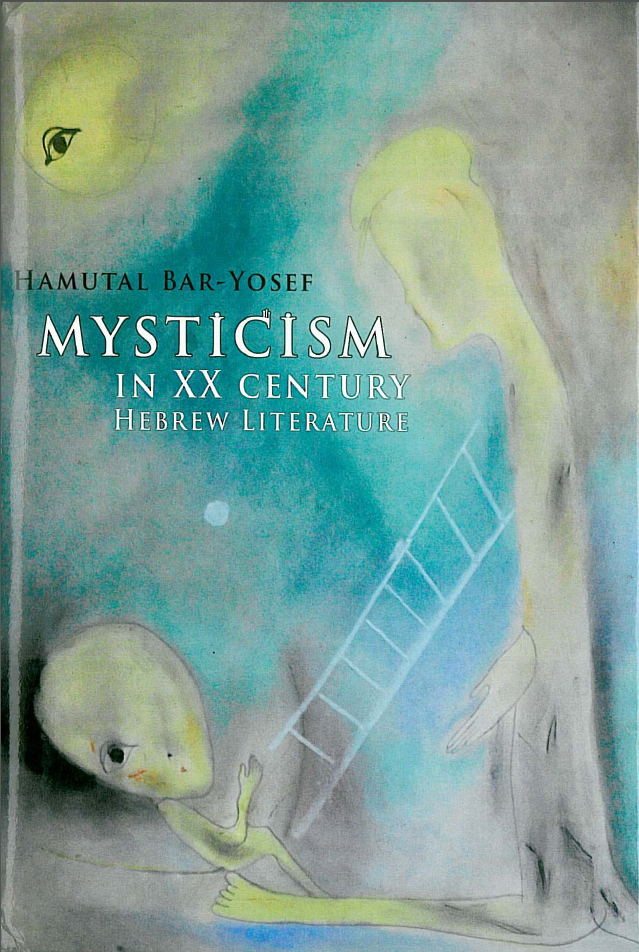 For the full text of the book press here
Articles and essays:
Bereivement in Israel
Interview in Ha-aretz in English 
The Wall: A collection of 18 stories i